سيارات مستعملة
2011 Toyota Corolla GCC – priced at 9000 aed An opportunity for expatriates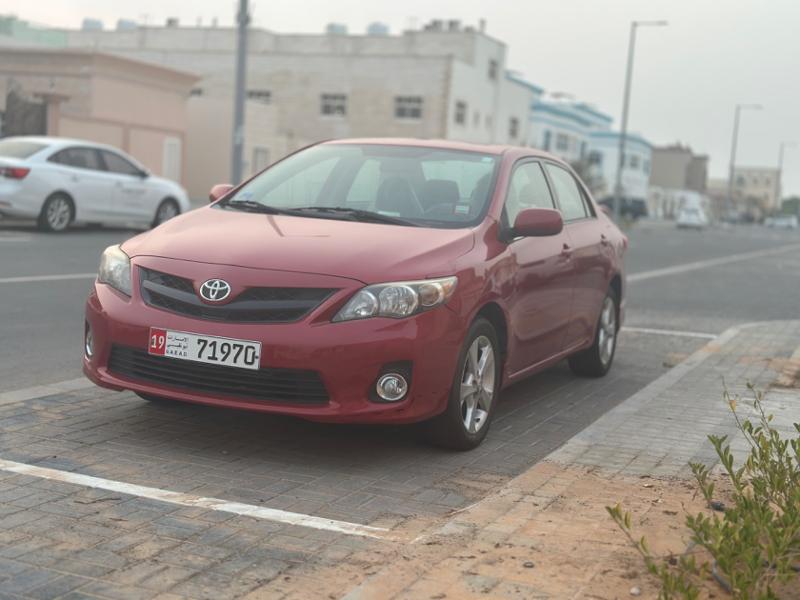 Do not miss this chance to purchase a used 2011 Toyota Corolla GCC for the bargain price of only 9,000 dirhams. This well-maintained compact could be the ideal car for expatriate workers seeking an affordable yet trusted set of wheels.
Quality Choice for Expats
A 2011 Toyota Corolla represents a tremendous opportunity for those residing outside the UAE. Expats need transportation to commute to their job, shop for essentials, and explore places around their city or town. Yet acquiring a new car is rarely realistic while abroad. This 2011 Toyota Corolla GCC available for under 9k AED solves that problem.
Service History You Can Count On
Rely on this 2011 Toyota Corolla, as its full maintenance records are readily available. The previous owner faithfully brought it to an authorized Toyota service center for scheduled upkeep. Small issues were addressed instead of becoming costly repairs later. Receipts demonstrate the vehicle received meticulous care.
Very Low Kilometers for a 2011
Although over a decade old, this compact indicates far fewer kilometers than typical for its age. The prior driver only accumulated 12,000 kilometers annually mostly within city limits with occasional highway trips. The low usage is clear – tires still grip well, brakes will last, and the engine purrs like new. It seems to have significantly under regular mileage for a 2011 model!
Room for Passengers or Cargo
The 2011 Toyota Corolla provides a roomy interior that comfortably seats four average adults. Rear doors swing widely for effortless loading of passengers and cargo. When more space is needed, simply fold down the rear seats to expose a generous load area. For transporting people or things, this Corolla has unexpectedly accommodating space.
Looks New Inside and Out!
After examining the 2011 Toyota Corolla's interior and exterior, no one would believe it's over a decade old. Beige upholstery shows no signs of wear, tears or stains. The dashboard and doors seem fresh from the dealership. Shiny paint and new wheels lend the impression this low-mileage car was recently purchased, not driven daily for years. Truly it appears like new at a used car price.
Call Today for the Best Deal Around
At just 9,000 dirhams, finding a better valued small sedan will be difficult. Test drive this 2011 Toyota Corolla GCC before someone else snaps it up. The seller wishes a fast sale and is ready to help with paperwork. Don't wait – contact now to inspect this meticulously maintained Corolla in person. Reliable transportation never costs so reasonably.
Advantages of the 2011 Toyota Corolla GCC
Fuel Efficiency
One of the standout features of the 2011 Toyota Corolla GCC is its impressive fuel efficiency. With rising fuel costs, having a car that can go the extra mile on a single tank is crucial. The Corolla GCC's economical engine allows you to save money on fuel without sacrificing performance.
Reliability
Toyota has built a reputation for producing vehicles that are dependable and long-lasting, and the 2011 Corolla GCC is no exception. Its robust engineering and well-built components contribute to its remarkable reliability, making it a trustworthy companion for your daily commute or road trips.
Affordability
For budget-conscious drivers, the 2011 Corolla GCC presents an affordable option in the used car market. Its initial price tag and reasonable maintenance costs make it an attractive choice for those looking to own a reliable vehicle without breaking the bank.
Low Maintenance Costs
Maintenance costs can add up over time, but the Corolla GCC's simplicity in design and reliable mechanics translate to lower maintenance expenses compared to more complex vehicles.
Resale Value
Investing in a car with good resale value is a wise decision, and the 2011 Corolla GCC holds its value relatively well. If you decide to upgrade or change vehicles down the line, you can expect a decent return on your investment.
Disadvantages of the 2011 Toyota Corolla GCC
Limited Engine Power
One of the drawbacks of the 2011 Corolla GCC is its modest engine power. While it excels in fuel efficiency, its acceleration and power might leave some drivers wanting more, especially when merging onto highways or overtaking.
Outdated Technology
In a rapidly evolving tech landscape, the 2011 Corolla GCC might feel a bit outdated in terms of its infotainment and connectivity features. If you're someone who values the latest tech amenities, this could be a potential downside.
Interior Quality
While the Corolla GCC is known for its reliability, some critics have noted that the interior materials and design could feel a bit uninspiring compared to newer models in the same segment.
Handling and Performance
The Corolla GCC prioritizes comfort and ease of driving over sporty handling and performance. If you're seeking a more engaging driving experience, you might find its handling dynamics somewhat lackluster.
Lack of Excitement
For drivers who enjoy a thrilling ride, the 2011 Corolla GCC might not provide the excitement and dynamism that some other vehicles in its class offer.
Safety Features
The 2011 Corolla GCC comes equipped with standard safety features, including airbags, antilock brakes, and stability control. However, it might not offer the advanced driver-assistance technologies found in newer models.
Driving Experience
The Corolla GCC provides a smooth and comfortable driving experience, ideal for city commuting and highway cruising. Its suspension absorbs road imperfections well, contributing to a pleasant ride.
Comfort and Space
The interior of the 2011 Corolla GCC offers ample space for passengers, both in the front and rear seats. The seats themselves are comfortable for daily drives and longer journeys.
Exterior Design
The exterior design of the Corolla GCC is timeless and practical. While it might not stand out as the most stylish option, its classic look has an enduring appeal.
Interior Amenities
Basic interior amenities are present in the Corolla GCC, ensuring a convenient driving experience. However, it might lack some of the modern luxuries that newer models boast.
Comparison with Competitors
When compared to rivals like the Honda Civic, Ford Focus, and Nissan Sentra, the Corolla GCC holds its own in terms of reliability and fuel efficiency. However, it might lag behind in terms of cutting-edge technology and driving excitement.
Is It Still a Viable Option?
While the 2011 Corolla GCC offers several advantages, its age and limitations in terms of technology and performance should be carefully considered. Depending on your priorities, it might still be a viable option for budget-conscious drivers seeking a reliable and efficient daily driver.
In conclusion, the 2011 Toyota Corolla GCC presents a mix of advantages and disadvantages. Its fuel efficiency, reliability, affordability, and low maintenance costs make it a practical choice. However, its limited engine power, outdated technology, and some interior quality concerns might not align with the preferences of all drivers. It's essential to weigh these factors against your needs and priorities before making a decision.
FAQs
Is the 2011 Toyota Corolla GCC a good choice for long drives? Absolutely! Its comfortable seats and smooth driving experience make it suitable for long journeys.
How does the fuel efficiency compare to newer models? While newer models might offer slightly improved fuel efficiency, the 2011 Corolla GCC still holds its own in this department.
Are there any notable technology upgrades available? The 2011 Corolla GCC might lack the advanced tech features found in newer cars, so don't expect significant upgrades in this area.
What safety features does the Corolla GCC offer? Standard safety features include airbags, antilock brakes, and stability control, but it might not have the latest driver-assistance technologies.
How does the Corolla GCC handle in city traffic? The Corolla GCC's smooth driving experience and compact size make it well-suited for navigating through city traffic.