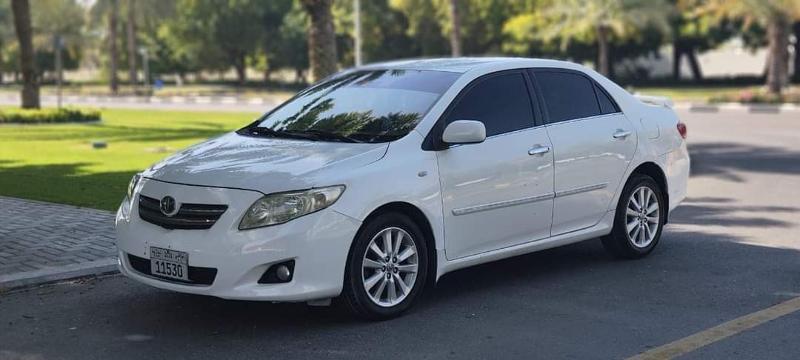 Toyota Corolla 2008
Full automatic
Alloys
217000 km
Gcc
Buying a Car: A Step-by-Step Guide
Buying a car is a big investment, and it's important to make sure you're making a smart purchase. Whether you're buying a new or used car, the process can be overwhelming. Here's a step-by-step guide to help make the process as smooth and stress-free as possible:
Determine Your Budget
Before you start shopping for a car, it's important to know how much you can afford to spend.
Consider your monthly income and expenses to determine your monthly car payment budget.
Keep in mind that in addition to your car payment, you'll also need to budget for insurance, fuel, and maintenance costs.
Research Your Options
Decide what type of car you're looking for, such as a sedan, SUV, or truck.
Look into the different brands and models that fit your needs and budget.
Read reviews and compare features and prices to help you make a decision.
Get Pre-Approved for a Loan
If you're financing your car, it's a good idea to get pre-approved for a loan before you start shopping.
This will give you an idea of your budget and help you negotiate a better deal.
Shop around for the best interest rates and loan terms.
Test Drive the Cars You're Interested In
Once you've narrowed down your choices, it's time to take the cars for a test drive.
Pay attention to the car's handling, acceleration, and braking.
Take the car on both city and highway roads to see how it performs in different conditions.
Negotiate the Price
Once you've found the car you want, it's time to negotiate the price.
Research the car's fair market value to help you determine a reasonable price.
Be prepared to negotiate on the price of the car, as well as any additional fees, such as the delivery fee or extended warranty.
Check for Hidden Fees
Be sure to check for any hidden fees, such as documentation fees, before you sign the contract.
Ask the dealer if there are any fees that can be waived or reduced.
Take Delivery of Your Car
Once you've signed the contract, it's time to take delivery of your new car.
Review the car's warranty and maintenance schedule with the dealer.
Make sure you have all the necessary paperwork, such as the title and registration.
good condition call 00971545134349
Enjoy Your New Car!
Congratulations! You're now the proud owner of a new car.
Make sure to keep up with regular maintenance to keep your car in good condition.
Buying a car can be a complex and overwhelming process, but by following these steps, you can make sure you're making a smart and informed purchase. Remember to take your time, do your research, and don't be afraid to negotiate to get the best deal possible. Happy car shopping!