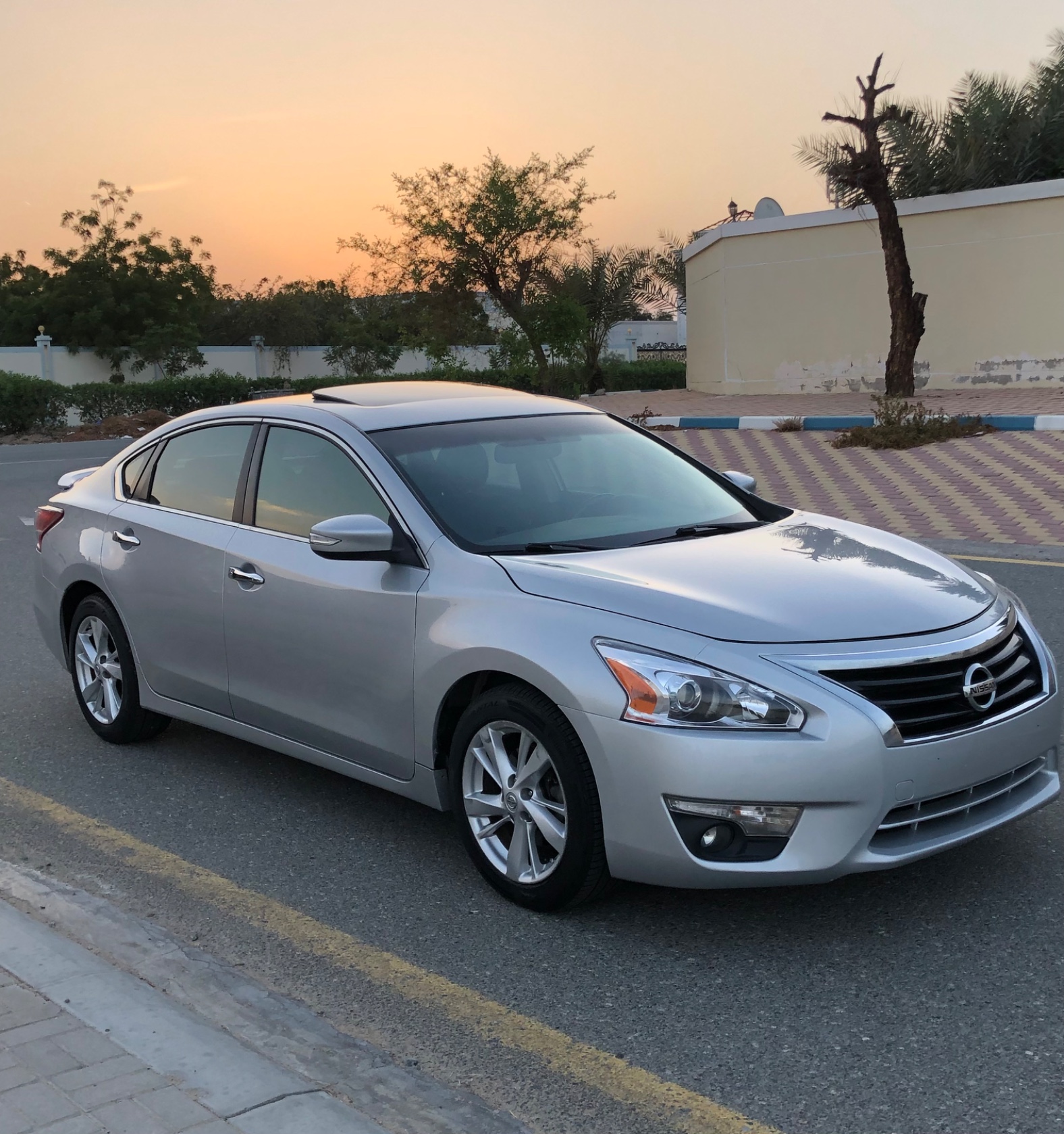 Nissan Altima 2013
Are you in search of a stylish and reliable sedan that combines elegance, performance, and affordability? Look no further than the Nissan Altima 2013, a used car that presents a unique opportunity to own a vehicle that embodies sophistication and driving pleasure. With its impeccable condition and competitive price of 8,000 AED, this well-maintained Nissan Altima is a fantastic choice for individuals seeking a blend of comfort, technology, and dynamic performance. In this article, we will explore the exceptional qualities of the Nissan Altima 2013 and how it provides an enticing opportunity to acquire a used car that exceeds expectations.
Striking Design and Sleek Aesthetics:
The Nissan Altima 2013 showcases a sleek and eye-catching design that exudes contemporary elegance. Its fluid lines, aerodynamic profile, and stylish grille create a visually appealing presence on the road. The Altima's well-crafted exterior is complemented by its refined interior, featuring premium materials and thoughtful details that enhance comfort and style. From the moment you lay eyes on the Nissan Altima 2013, you'll be captivated by its sophisticated aesthetics that make a lasting impression.
Exceptional Performance and Fuel Efficiency:
Under the hood, the Nissan Altima 2013 delivers an impressive performance that blends power with fuel efficiency. Equipped with a capable engine and advanced engineering, this sedan offers responsive acceleration, smooth handling, and a refined ride quality. The Altima's efficient powertrain ensures that you can enjoy spirited driving while still achieving impressive fuel economy. Whether you're commuting through city traffic or embarking on a long-distance journey, the Altima provides a balanced and enjoyable driving experience.
Advanced Technology and Comfort Features:
Step inside the Nissan Altima 2013, and you'll find a wealth of advanced technology and comfort features that enhance your driving pleasure. From the intuitive infotainment system and available touchscreen display to the convenient connectivity options, the Altima keeps you connected, entertained, and informed throughout your journey. The sedan's spacious interior offers ample legroom for both the driver and passengers, ensuring a comfortable and enjoyable ride. With features such as dual-zone climate control, premium audio systems, and ergonomic seating, the Altima prioritizes your comfort and convenience.
Comprehensive Safety Features:
Nissan has always placed a strong emphasis on safety, and the Altima 2013 is no exception. This sedan is equipped with a comprehensive range of safety features designed to protect you and your passengers on the road. From advanced airbags and antilock brakes to stability control and traction control systems, the Altima provides peace of mind and confidence in various driving conditions. Additionally, the Altima's reinforced body structure and advanced safety technologies contribute to its excellent safety ratings, ensuring that your well-being is a top priority.
Outstanding Value for Money:
Investing in a used Nissan Altima 2013 offers exceptional value for your money. With its competitive price, this sedan provides an affordable option for individuals seeking a reliable and stylish vehicle. The Altima's reputation for longevity and durability, coupled with its impressive performance and advanced features, makes it a wise choice for those looking to maximize their automotive investment. By choosing the Altima, you can enjoy the benefits of owning a high-quality sedan without compromising your budget.
Conclusion:
The opportunity to own a Nissan Altima 2013 at a competitive price of 8,000 AED is truly remarkable. This sedan embodies elegance, performance, and affordability, making it an excellent choice for individuals seeking a used car that surpasses expectations. With its striking design, exceptional performance, advanced technology, comprehensive safety features and outstanding value for money, the Nissan Altima 2013 offers a compelling opportunity to elevate your driving experience.
When considering the opportunity to buy a used car like the Nissan Altima 2013, it's essential to approach the process with thoroughness and attention to detail. Begin by examining the car's overall condition, both inside and out. A well-maintained vehicle will not only provide you with immediate satisfaction but also minimize the likelihood of unexpected repairs or maintenance costs in the future. Take the time to inspect the body, paint, tires, and interior to ensure that they meet your standards.
Additionally, don't hesitate to take the Nissan Altima 2013 for a test drive. This step allows you to experience the sedan's performance firsthand and gauge its responsiveness on different road conditions. Pay attention to the engine's smoothness, the handling and steering precision, and the overall comfort of the ride. Testing the vehicle in various driving situations will help you assess its capabilities and determine if it aligns with your driving preferences and needs.
Another crucial aspect to consider when buying a used car is the vehicle's history. Obtain a comprehensive vehicle history report to gain insights into the Altima's previous ownership, service records, and any reported accidents. This information will provide you with a clearer picture of the sedan's background and ensure transparency in the transaction.
Furthermore, take the time to research the market value of similar Nissan Altima models to ensure that the offered price of 8,000 AED is competitive and fair. It's also advisable to explore financing options and calculate the total cost of ownership, including insurance, registration, and potential future maintenance.
In conclusion, the opportunity to purchase a used Nissan Altima 2013 in excellent condition at a competitive price of 8,000 AED is an enticing proposition for individuals in search of a stylish, reliable, and affordable sedan. With its striking design, exceptional performance, advanced technology, comprehensive safety features, and outstanding value for money, the Altima is a compelling choice for those looking to elevate their driving experience.
Don't miss out on this opportunity to own a Nissan Altima 2013 and enjoy the benefits of its exceptional qualities. Whether you're seeking a practical daily driver or a comfortable vehicle for road trips, the Altima offers a blend of elegance, performance, and affordability that is hard to resist. Take the next step and seize this opportunity to embrace the joys of owning a well-crafted and reliable sedan like the Nissan Altima 2013.
Invest in a vehicle that will not only transport you from point A to point B but also ignite your passion for driving. Experience the sophistication and driving pleasure that the Nissan Altima 2013 has to offer.
Nissan Altima 2013
Take abroad
customs papers
Full option
Big Screen
sunroof
Cruise control
remote control
Run a fingerprint
rear camera
Warranty for the chassis of the gear machine
Airbag
Motor agency checked and successful
Come and register directly, 150 thousand cattle
The price is 8000 dirhams