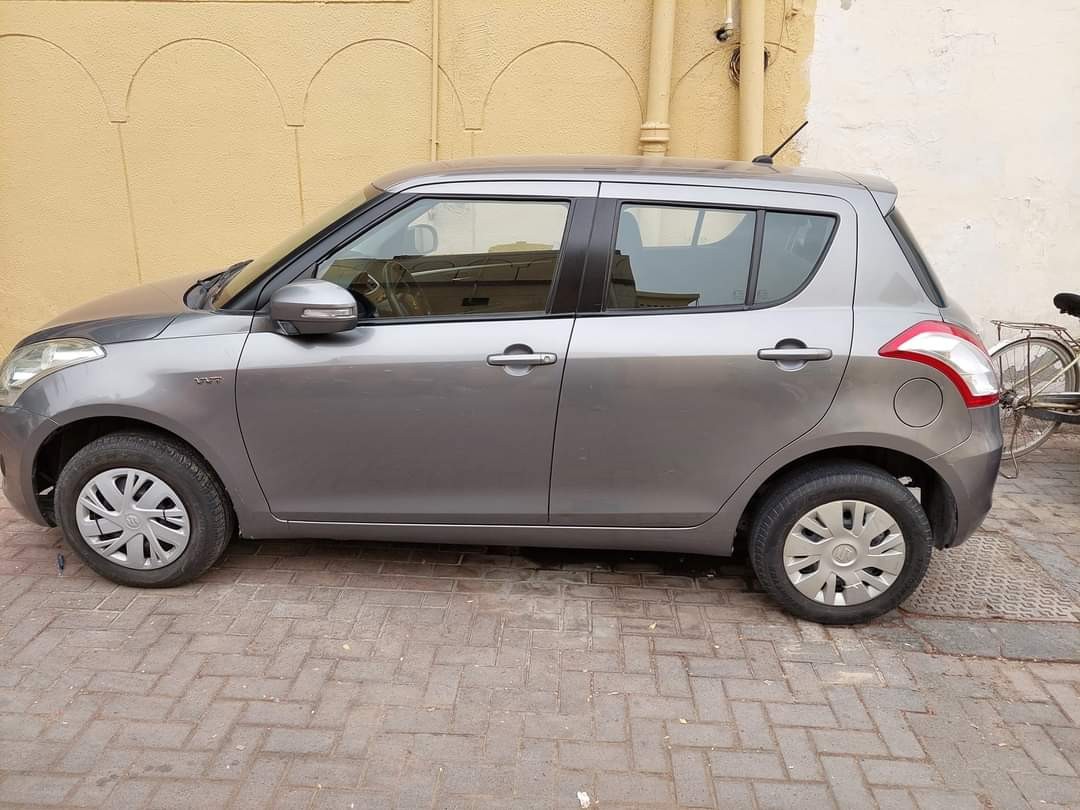 Suzuki Swift 2015
Attention car enthusiasts and budget-conscious individuals! An incredible opportunity awaits you—a pre-owned 2015 Suzuki Swift, available at an attractive price of only 7,800 dirhams. In this exclusive article, we will delve into the advantages of purchasing a used car in the United Arab Emirates (UAE), highlighting the substantial cost savings and the array of opportunities available through exhibitions, agents, and auctions. Discover the value, convenience, and thrill of owning a pre-owned vehicle as we uncover the features and benefits of the 2015 Suzuki Swift.
Financial Savings and Cost-Effectiveness: When it comes to buying a used car in the UAE, the advantages are plentiful. Let's explore the financial benefits:
Cost Savings: Purchasing a pre-owned car offers significant cost savings compared to buying a brand-new vehicle. Depreciation has already taken its toll on the Suzuki Swift, making it a budget-friendly option that retains its reliability and functionality.
Lower Insurance Premiums: Insuring a used car generally results in lower insurance premiums compared to insuring a new car. This can contribute to additional cost savings and financial relief, allowing you to allocate your funds to other important aspects of your life.
Registration and Licensing: Registering a used car in the UAE involves lower registration fees and licensing costs compared to new vehicles. This helps reduce your initial expenses and makes owning a pre-owned car a more financially viable option.
Opportunities in the UAE: Exhibitions, Agents, and Auctions: The UAE provides numerous avenues for purchasing a used car. Let's explore the opportunities available:
Exhibitions and Shows: The UAE hosts various automobile exhibitions and shows where reputable dealers and sellers showcase their pre-owned vehicles. These events offer a wide selection of cars, including the 2015 Suzuki Swift, allowing you to explore different options and find the one that suits your preferences and budget.
Authorized Agents: Authorized agents specializing in pre-owned vehicles are another reliable source for finding the perfect used car. These agents thoroughly inspect and certify the vehicles, ensuring their quality and authenticity. With their expertise, you can confidently choose a pre-owned Suzuki Swift that meets your expectations.
Auctions: Auctions present an exciting opportunity to acquire a used car at a competitive price. These events bring together a range of vehicles, including the Suzuki Swift, for bidding. By participating in auctions, you have the chance to secure a great deal on a quality pre-owned car.
Features of the 2015 Suzuki Swift: Now, let's delve into the features that make the 2015 Suzuki Swift an enticing choice:
Compact and Agile: The Suzuki Swift boasts a compact design, making it ideal for navigating crowded city streets and tight parking spaces. Its agile handling and responsive steering contribute to a dynamic and enjoyable driving experience.
Fuel Efficiency: With its efficient engine and lightweight construction, the Suzuki Swift excels in fuel efficiency. This means fewer trips to the gas station and more savings on your fuel expenses, making it an economical choice for daily commutes.
Stylish Exterior: The Swift's sleek and sporty exterior design turns heads wherever it goes. Its modern aesthetics, including bold lines and distinctive headlights, give the car a youthful and energetic appeal.
Practical Interior: Despite its compact size, the Suzuki Swift offers a surprisingly spacious interior. The well-designed cabin provides ample headroom and legroom, ensuring comfort for both the driver and passengers. Additionally, the Swift offers practical storage options and a versatile cargo space to accommodate your belongings.
Conclusion: The opportunity to own a pre-owned 2015 Suzuki Swift at an attractive price of 7,800 dirhams is one that should not be missed. Take advantage of the financial savings, explore the array of opportunities available through exhibitions, agents, and auctions, and embrace the value and convenience of owning a used car in the UAE. With its fuel efficiency, stylish design, and practical features, the Suzuki Swift is ready to elevate your driving experience and add excitement to your journeys. Seize the wheel and embark on your adventures with confidence in a pre-owned Suzuki Swift.
Suzuki Swift 2015
Accident free
km 230 thousand
Without any malfunctions
The car is in good condition
The price is 7,800 dirhams