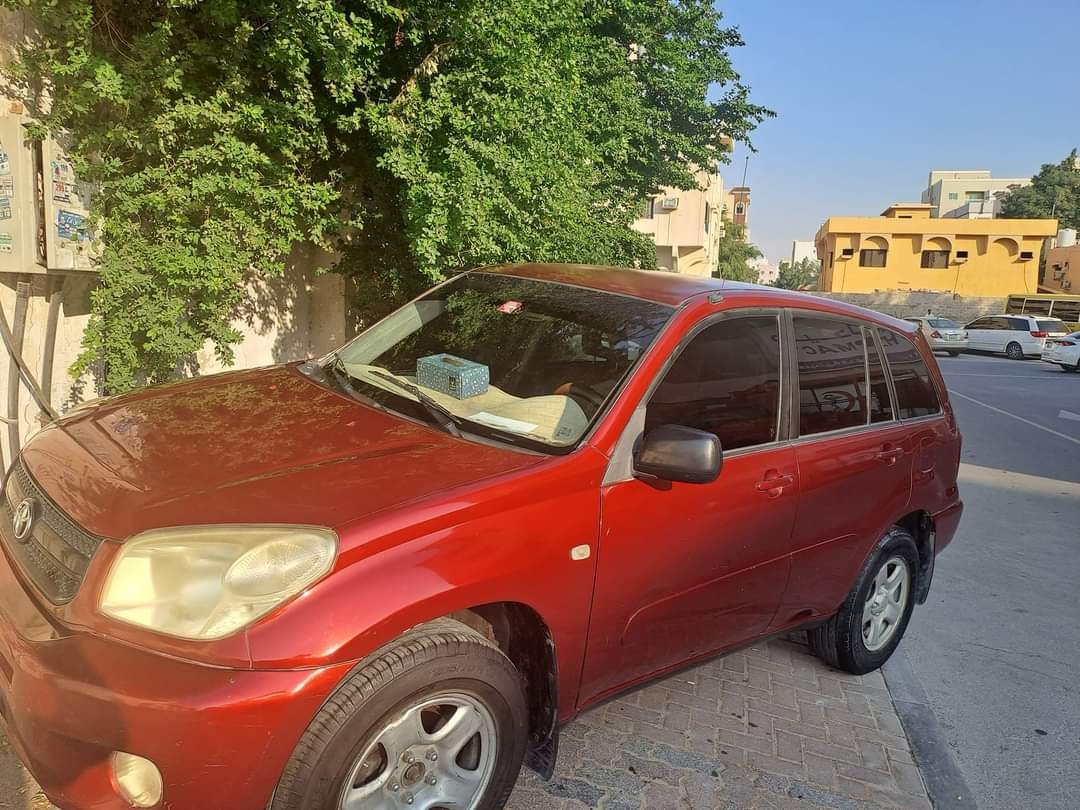 Toyota Rav4-2005
Attention all car enthusiasts and adventure seekers! An incredible opportunity awaits you in the UAE. Don't miss out on the chance to own a used Toyota Rav4, a legendary compact SUV that combines versatility, reliability, and affordability. Priced at an attractive 5,800 dirhams, this 2005 model is your gateway to exploration without breaking the bank. In this exclusive article, we will delve into the exciting features that make the Toyota Rav4 2005 a standout choice for both urban and off-road adventures. Get ready to experience the perfect blend of performance and affordability.
Striking Exterior Design:
The Toyota Rav4 2005 boasts a timeless and rugged exterior design that captures attention wherever it goes. With its muscular stance, bold lines, and a distinctive front grille, this SUV exudes confidence and presence on the road. The compact dimensions of the Rav4 make it easy to navigate through crowded city streets while providing ample ground clearance for off-road escapades.
Spacious and Comfortable Cabin:
Step inside the Toyota Rav4 2005, and you'll be greeted by a spacious and comfortable cabin that can accommodate both passengers and cargo with ease. With seating for up to five occupants, there's plenty of legroom and headroom for everyone to enjoy the journey. The well-designed interior features high-quality materials and ergonomic controls, creating a pleasant driving environment.
Advanced Safety Features:
Safety is paramount, and the Toyota Rav4 2005 doesn't disappoint in this regard. Equipped with a range of advanced safety features, including dual front airbags, anti-lock braking system (ABS), electronic brake-force distribution (EBD), and vehicle stability control (VSC), the Rav4 ensures a secure and confident driving experience. Whether you're navigating busy city streets or venturing off the beaten path, the Rav4 has you covered.
Powerful Performance:
Under the hood, the Toyota Rav4 2005 houses a capable and fuel-efficient engine that delivers a satisfying driving experience. The 2.4-liter four-cylinder engine generates ample power and torque, allowing the Rav4 to tackle various terrains with ease. The smooth-shifting automatic transmission ensures seamless gear transitions, enhancing overall performance and efficiency.
All-Wheel Drive Capability:
One of the standout features of the Toyota Rav4 2005 is its available all-wheel drive (AWD) system. With the AWD option, this SUV provides enhanced traction and stability, making it ideal for both on-road and off-road adventures. Whether you're traversing slippery roads during rainy days or exploring rugged terrains, the Rav4's AWD system offers added confidence and control.
Versatile Cargo Space:
Need to transport gear for a weekend getaway or outdoor activities? The Toyota Rav4 2005 offers a versatile cargo space that adapts to your needs. The rear seats can be easily folded down to create a flat loading floor, providing ample space for larger items. With its generous cargo capacity, the Rav4 allows you to bring along everything you need for your adventures.
Conclusion:
In conclusion, the used Toyota Rav4 2005 presents an irresistible opportunity for car enthusiasts and adventure seekers alike. With its striking design, spacious cabin, advanced safety features, powerful performance, all-wheel drive capability, and versatile cargo space, this SUV offers the perfect blend of comfort, versatility, and affordability. Priced at just 5,800 dirhams, the Rav4 allows you to embark on exciting journeys without straining your budget.
Don't miss out on the chance to own the Toyota Rav4 2005 and unlock a world of possibilities. Whether you're navigating urban streets
or venturing off-road, this compact SUV has the features to make every drive enjoyable and memorable.
Moreover, buying a used car in the UAE provides an excellent opportunity for budget-conscious individuals to own a reliable and high-quality vehicle at a fraction of the cost of a brand-new car. The Toyota Rav4 2005, with its attractive price of only 5,800 dirhams, exemplifies this advantage. By opting for a used car, you can save a significant amount of money while still enjoying the benefits of owning a reliable and versatile vehicle.
When considering a used car purchase, it is important to inspect and examine the vehicle thoroughly. Begin by examining the exterior for any signs of damage or rust. Check the tires for adequate tread depth and even wear. Moving to the interior, inspect the seats, dashboard, and controls for wear and tear. Test all the features and functions such as the air conditioning, audio system, and power windows to ensure they are in proper working condition.
Next, take the car for a test drive to assess its performance. Pay attention to the engine's responsiveness, transmission shifts, braking capability, and steering response. Listen for any unusual noises or vibrations. A thorough test drive will provide valuable insights into the car's overall condition and performance.
It is also advisable to request the vehicle's service history and vehicle identification number (VIN) to check for any previous accidents or major repairs. A vehicle history report can provide comprehensive information about the car's maintenance, ownership, and accident history, offering peace of mind to the buyer.
Furthermore, the UAE offers numerous opportunities for purchasing used cars. Car exhibitions, authorized dealerships, and online platforms are popular avenues to explore. These platforms provide access to a wide range of used car models, allowing buyers to compare prices, features, and conditions to find the best fit for their needs and budget.
In addition, auctions can be a great option for purchasing used cars at competitive prices. These auctions feature a variety of vehicles, including the Toyota Rav4 2005, and provide an opportunity for buyers to bid on their desired models. Participating in auctions requires careful research and preparation, but it can result in significant savings.
In conclusion, the used Toyota Rav4 2005 is a compelling opportunity for car buyers in the UAE. With its attractive price of only 5,800 dirhams, this SUV offers a range of features that make it a reliable and versatile choice for various driving needs. Moreover, buying a used car in the UAE provides substantial financial advantages while still ensuring quality and performance. By inspecting and examining the vehicle thoroughly and exploring the available opportunities, buyers can make an informed decision and find a used car that meets their requirements. Don't miss the chance to own the Toyota Rav4 2005 and experience the joy of driving a capable and affordable SUV. Seize this opportunity and embark on your next adventure with confidence.
Toyota Rav4 model 2005
The car is located in Ajman
Price 5.800
The car is in good condition
without any accidents
Just drive
It is in full maintenance