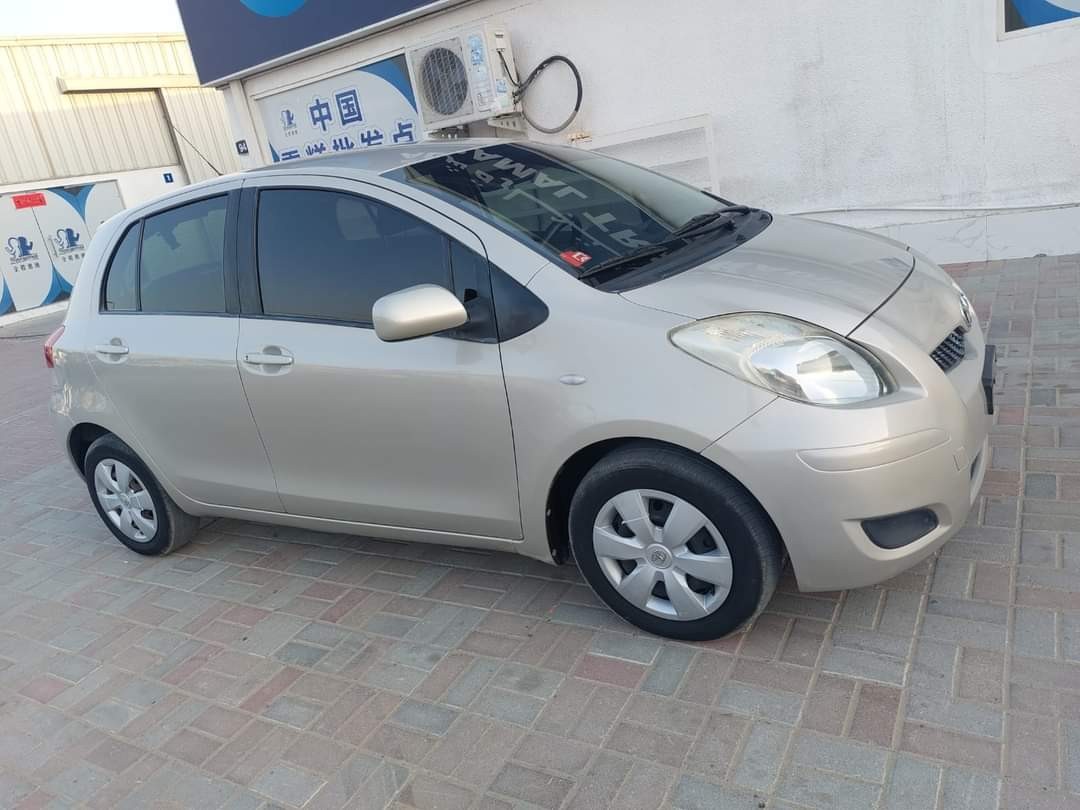 Toyota Yaris 2009
In the vibrant automotive market of the United Arab Emirates (UAE), finding a reliable and budget-friendly car is an exciting endeavor. Today, we bring you an exclusive opportunity to own a used 2009 Toyota Yaris at an irresistible price of only 6,000 dirhams. This article will explore the advantages of purchasing a used car, shedding light on the financial savings it offers. Additionally, we will delve into essential tips on how to detect and examine a pre-owned vehicle, ensuring you make an informed decision and enjoy a hassle-free ownership experience.
Advantages of Buying Used Cars:
Affordability: One of the primary advantages of buying a used car is the significant cost savings it offers. Used vehicles are generally priced lower than their brand-new counterparts, allowing you to get behind the wheel of a reliable car without straining your budget. With the 2009 Toyota Yaris available at a price as attractive as 6,000 dirhams, you can experience quality and value in one package.
Depreciation Avoidance: New cars tend to experience rapid depreciation in their initial years. By opting for a used vehicle, like the 2009 Toyota Yaris, you bypass this stage, as the previous owner has already absorbed the bulk of the depreciation. This advantage ensures that your investment retains its value better, and you have the potential to sell the car later without significant financial loss.
Insurance and Registration Savings: Insuring and registering a used car often comes with lower costs compared to new vehicles. Insurance premiums for used cars are typically lower as they are based on the vehicle's value, which is lower for a pre-owned car. Similarly, registration fees for used cars are usually less expensive, contributing to additional savings over time.
Detecting and Examining a Used Car:
Vehicle History Report: Begin by obtaining a comprehensive vehicle history report. This report provides vital information about the car's past, including accidents, repairs, and ownership history. It serves as a valuable tool to uncover any potential red flags or issues that may impact the vehicle's performance and value.
Thorough Visual Inspection: Conduct a detailed visual inspection of the 2009 Toyota Yaris. Check the exterior for any signs of damage, rust, or repainted areas. Inspect the interior for wear and tear, ensuring that all features and components are in proper working order. Be attentive to any unusual smells or signs of water damage.
Mechanical Evaluation: Unless you possess mechanical expertise, it is advisable to have a trusted mechanic inspect the car's mechanical components. They can thoroughly examine the engine, transmission, suspension, brakes, and other critical systems. A professional evaluation helps identify any underlying issues and assesses the overall condition of the vehicle.
Test Drive: Take the used Toyota Yaris 2009 for a test drive. Pay attention to the engine's performance, responsiveness, and smoothness. Evaluate the handling, braking, and suspension to ensure a comfortable and enjoyable driving experience. Listen for any unusual noises or vibrations that may indicate mechanical issues.
Conclusion: The opportunity to own a used 2009 Toyota Yaris priced at a mere 6,000 dirhams is not to be missed by discerning buyers seeking a reliable and cost-effective vehicle in the UAE. Purchasing a used car offers significant advantages, including affordability, depreciation avoidance, and savings on insurance and registration costs. However, it is crucial to carefully detect and examine a pre-owned vehicle before making a purchase. By following the outlined tips, such as reviewing the vehicle history report, conducting a thorough visual inspection, seeking professional mechanical evaluation, and taking the car for a test drive, you can make an informed decision and enjoy a rewarding ownership experience. Don't miss this golden opportunity to uncover value and reliability with the used Toyota Yaris 2009—your ticket to efficient and budget-friendly mobility on the roads of the UAE.
Toyota Yaris 2009
GCC SPECIFICATIONS FULL AUTOMATIC
The condition of the car is beautiful
Accident free
1.3 Engine
price 6000