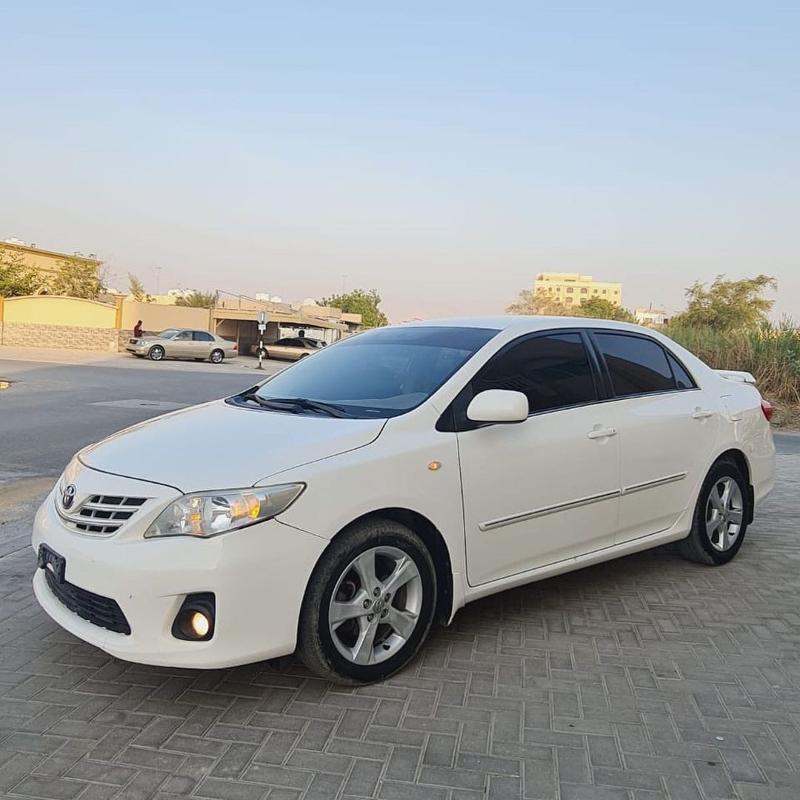 In the market for an affordable, reliable used sedan? The 2012 Toyota Corolla GCC warrants serious consideration. With Toyota's reputation for durability and efficiency, it makes an excellent choice for value-focused buyers.
What Makes the 2012 Corolla Stand Out?
There are several reasons why the 2012 Corolla is an appealing option:
Proven engine: The trusty 1.8L 4-cylinder delivers responsive performance while optimizing gas mileage. Expect up to 28 mpg city and 35 mpg highway.
Spacious interior: The Corolla boasts impressive room for passengers, especially in the rear seats. The trunk is capacious too.
Smooth ride: The suspension absorbs bumps and vibrations nicely, providing a comfortable ride quality. Handling is secure as well.
Toyota dependability: The brand is synonymous with reliability and longevity. With proper maintenance, a 2012 Corolla will easily reach 200,000+ miles.
Affordable price: At just AED 10,000, this pre-owned Corolla is a fantastic value. Finding another used sedan with similar pedigree in this price range is unlikely.
What to Look For in a Used 2012 Corolla
When evaluating a 2012 Corolla, keep these tips in mind:
Inspect body panels for signs of damage or misalignment that could indicate a prior accident.
Check under the car for any fluid leaks from the engine, transmission or hoses.
Make sure features like power windows, locks, stereo and climate control are functioning.
Take it for an extended test drive, listening closely for any odd noises or vibrations.
Have a trusted mechanic scan for trouble codes and inspect key components like brakes, tires and suspension.
Ask to see maintenance records from the previous owner if possible.
Consider running a vehicle history report to check for prior accidents, damage or title issues.
Why the 2012 Toyota Corolla GCC is Great for Expats
There are many excellent reasons why a used 2012 Toyota Corolla makes sense for expats:
Legendary reliability – Even in harsh conditions, a Corolla will keep running with basic upkeep. Breakdowns will be minimal.
Great gas mileage – The efficient 4-cylinder engine will save plenty in fuel costs. Important for high Middle East prices.
Low cost maintenance – Parts are inexpensive for the Corolla. Oil changes, tires and other service are affordable.
Proven resale value – Corollas are sought after used. This makes resale easy when your assignment ends.
Reasonable price – At AED 10,000, this '12 Corolla is easy on an expat's budget. Low ownership costs too.
Act Fast for This Opportunity!
In short, for expats or anyone needing an economical, trouble-free used sedan, this 2012 Toyota Corolla GCC is an outstanding pick. With Toyota's world-class reputation and a price of only AED 10,000, it offers huge value. So act quickly before someone else snaps up this great opportunity!
For those wanting a used car that prioritizes reliability, efficiency, and long-term ownership value, look no further than the 2012 Corolla. Its pedigree and price make it a savvy choice. Don't sleep on this chance to own a great car.
Don't Skip the Safety Checklist When Buying a Used Car
Safety first! When purchasing a used car, thoroughly inspecting it is key to avoiding nasty surprises down the road. Use this comprehensive used car safety checklist to spot issues before you buy.
Trust the Tests: Review Safety Ratings
Consult safety test results from experts like the IIHS and NHTSA. Frontal, side, rollover ratings – accept no less than top scores. Scan for safety features: airbags, ABS, stability/traction control. More is better. No compromises here. Search NHTSA's recall database for any defects with the make/model. Open recalls must be fixed pronto.
Stick with cars boasting ace crash tests and today's latest safety tech. No sense settling for less protection.
Scan the Surface: Examine the Exterior
Give those tires the once over – adequate tread depth? Even wear? Replace if questionable. Lights fully operational? Check headlights, blinkers, brake and reverse lights. Replace burnt out bulbs. Inspect paint for overspray, mismatched panels or repairs hinting at collisions. Do panels line up? Badly aligned doors or hood could equal frame damage. No bueno. Leaks below? Scan underneath for drips or puddles that spell trouble. Chips, cracks or damage in glass? Have it repaired or swapped, visibility is paramount.
Pore Over the Interior
Seat belts frayed or faulty? Replace 'em. They're lifesavers when seconds count. Airbags – all present, no tears? Warning lights flashing trouble? Don't ignore. Electronics firing on all cylinders? Test windows, locks, lights, wipers. Fix flaws. Parking brake ain't broke? Adjust or repair accordingly. Crucial backup for regular brakes. Upholstery & carpets – stains and rips could point to leaks or flooding. Be vigilant.
What's Under the Hood?
Fluids – refill low brake fluid, transmission fluid, coolant, etc. Flush if grungy. Hoses & belts worn or cracked? Replace to avoid being stranded roadside. Battery terminally corroded or insecurely mounted? Load test. Replace if weak. Leaks or damage in engine? Leave inspection to the pros, don't start it yourself!
Take it for a Spin
Steering responsive with no pulling, vibration? Alignment needs addressing. Brakes loud or grabby? Red flags like pulsating point to problems. Pickup peppy? Hesitations or odd noises when accelerating spell trouble. Transmission shifts smooth as butter? Slips between gears – uh oh. Suspension nice and tight? Bounciness, leaning around corners – could need work.
Review Maintenance & Ownership Records
Service history complete with oil changes, inspections etc? Gaps in service suspicious. Accident history report reveals damage, salvage title? Pass. Too risky. Many previous owners? More owners = more wear and tear. Original owner ideal.
Arm yourself with this safety checklist before hitting the used car lot. Identify issues early, negotiate accordingly, and drive away confidently in your ride. Safe travels!